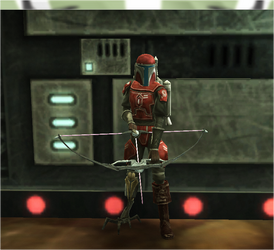 Yusanis is a Mandalorian Spy,that serves to Shadow Clan and Shadow Mandalorian group.His spy skils was best in the galaxy.When he 20 years old,he joined Shadow Clan,and met there Trandoshian Mandalorians Rathe Gurfglider and Pre Mando.They started to talk.Rathe liked Yusanis as a soldier,same said Pre.They needed a good spy to a squad,so Yusanins accepted invitation to Shadow Mandalorians group.They've done alot of missions and hunts together with Rathe Gurfglider.Yusanis lost his leg on Korda 6,in duel with Death Watch soldier.Yusanis stayed loyal to Shadow clan,and Shandow Mandalorians leaders,and never betray them!
This Page is Outdated.  Visit the page "Yusanis Nightslasher," for the real story.  It sets in categories:  Mandalorian, True Mandalorian, and Clones.
Yusanis Nighntslasher
Biographical information
Homeworld

Mandalore

Born

45 BBY

Physical description
Species

Human

Gender

Male

Height

1.0 meters

Mass

177 killo

Hair color

Fair

Eye color

Brown

Skin color

White

Cybernetics

Cyber Metalic leg

Chronological and political information
Era(s)

-The rise of Empire era

Affiliation

-Mandalorian spy

Known masters
Current Squad

The Shadow Mandalorians

Squad Rank

General
Ad blocker interference detected!
Wikia is a free-to-use site that makes money from advertising. We have a modified experience for viewers using ad blockers

Wikia is not accessible if you've made further modifications. Remove the custom ad blocker rule(s) and the page will load as expected.