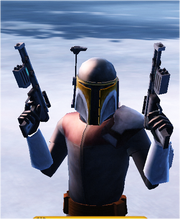 Veralore is a Mandalorian soldier that have joined The Shadow Mandalorians and earned rank General.Khaliiz Mereel,Rathe Gurfglider and Veralore were a good friends from there birth day.Nothing could broke their friendship.They were living in small village On Trandosha.Veralore wasn't a Trandoshian,but they were many humans that was living in that village.Veralore always stayed loyal to his squad.
Vearlore Cabur
Biographical information
Homeworld

Concor Dawn

Born

50 BBY

Physical description
Species

Human

Gender

male

Height

1.0 meters

Mass

180 killo

Hair color

Fair

Eye color

Brown

Skin color

White

Chronological and political information
Era(s)

-The Rise of Empire era

Affiliation

-Mandalorian General

Known masters

Jango Fett

Current Squad

The Shadow Mandalorians

Squad Rank

General

Former Squad(s)

Mandalorian Guild
After all Veralore moved to Cocor Dawn,so his homeword was Concor Dawn.But Rathe Khaliiz and Veralore stayed friends forever.
Ad blocker interference detected!
Wikia is a free-to-use site that makes money from advertising. We have a modified experience for viewers using ad blockers

Wikia is not accessible if you've made further modifications. Remove the custom ad blocker rule(s) and the page will load as expected.