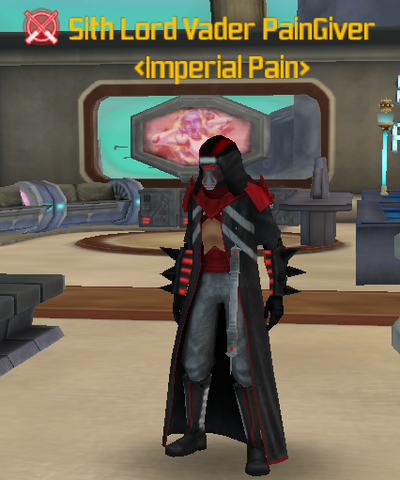 This is Vader PainGiver Here is his story......
Birth-
When vader was born he had deep anger already inside him emerging from him already turning him but he joined the jedi anyway......
as a youngling-
When vader was a youngling his master was killed in training and he was a jedi master so vader got very deep in anger and couldn't stop turning then he became the sith he knew he would have been and watches people suffer...
teenage years-
It is near the time for the end of the clone war and vader is now only 13 and is gaining power through the dark side and this code,PEACE IS A LIE, THERE IS ONLY PASSION,THROUGH PASSION, I GAIN STRENGTH,THROUGH STRENGTH, I GAIN POWER, THROUGH POWER, I GAIN VICTORY, THE FORCE SHALL FREE ME!.That code keeps him alive as the sith he knows he could be and that goes down in the story......now vader is 16, he has become the sith he has dreamed he would be all these years and now he becomes him deeply lost in the making of a jedi Vader spreads pain accross the galaxy He has been confronted alot of times by rouge jedi's but they have fallen by him because he is way stronger then them......now Vader is 20 He is deep in the dark side he leads his own imperial army through thick and tough even though He may look small time he has ALOT of power in his mind and can destroy you from a planet away......
the sith lord emerges-
Vader paingiver now 32 has become a sith lord he knew he would be and is spreading fear all over the galaxy it will be long before peace is restored he is looking for clone sith and bounty hunters too join his squad..........Vader PainGiver now 33 has finaly reached his destiny because now he launches his assault and it has succeeded so now the galaxy is only run through fear and a new dark lord Darth Vader thougfht too be a sith is still secretly a jedi has gathered a mere boy too be as his apprentice and is sending him too destroy a symbol of that fear........
Ad blocker interference detected!
Wikia is a free-to-use site that makes money from advertising. We have a modified experience for viewers using ad blockers

Wikia is not accessible if you've made further modifications. Remove the custom ad blocker rule(s) and the page will load as expected.