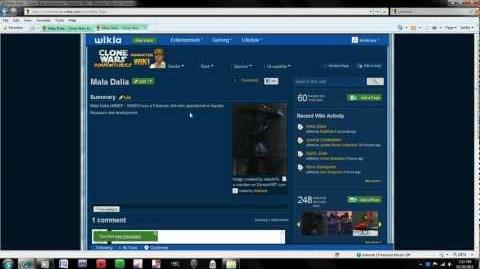 Hello, and welcome to the CWA Character Wiki! Thanks for your edit to the Griff Spacetracker page. If you are new to wikia, I recommend watching this tutorial about the wiki. The video is a little outdated so if you are still confused or if you need any help please leave a message on my talk page if I can help with anything! -- Wuher Moseisley (Talk) 21:06, October 24, 2012
Font Size
Hi there, would it be alright if I fixed the caps on your page, but made the font noticeably larger? I hope that can help.

Wuher MosEisley 21:28, February 12, 2013 (UTC)
Hey I saw that you liked kingdom hearts too. Its my favorite game besides CWA. I will try and add you on CWA if I can.  See you around. Emperor Cosmic (talk) 01:24, February 13, 2013 (UTC)
Response from Message on April 30, 2016
Hey,
It's been a long time. I don't remember you very well, but I do remember we were good friends (I hope that's right).
I don't come on wikia very much at the moment because of a lot of school work. Thanks for reaching out to me.
Lenn Bladeraider (Talk) 17:19, May 8, 2016 (UTC)
Update:
I don't care about the header... um I forget what else I was gonna say lol. Have a good one!
Lenn Bladeraider (Talk) 23:05, May 25, 2016 (UTC)