"Being a soldier is more than courage. Its sacrificing yourself for something GREATER THAN YOURSELF!"

– Swift Beamer talking to his squad

"You can run. But you will just die tired"

– Swift Beamer
Swift Beamer (Cpt. Swift)

Biographical information
Homeworld

Kamino

Born

32BBY

Died

Unconfirmed(Still Living)

Physical description
Species

Human(Clone)

Gender

Male

Height

1.83 meters

Hair color

None

Eye color

Brown

Chronological and political information
Era(s)

Grand Army of the Republic

Affiliation

Grand Army of the Republic, 212th legion

Rank

Captain

Current Squad

212th Spec. Opps. Division

Squad Rank

Trooper

Battle Class
 CT-4191 or Cpt. Swift was a clone trooper Captain in the Galatic Republic. He was incharge of the 212th Spec. Opps Division and had many battles including the first battle of Geonosis.
Personallity and Traits
Swift wasn't quite like the average clone trooper, he had a similar personallity/traits like the Clone Commando Sev. He had a really low voice simillar to Sev's and loved sniping just as much as him. He was really known for having a machete in his backpack and he using it to mark his kills on on his weapons. He originally wears customized orange airborne armor.
Combat Role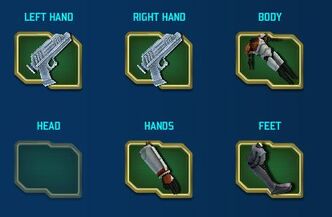 Swift always carryed his sniper rifle and a machete on his backpack and his double pistols in his holsters. He has used all weapons available to the Republic's disposal like the Z-6 Rotary Cannon and practiced with all the available weapons untill he reached perfection. His first battle was the battle of Geonosis and lead his squad into the battle and killing everything in there path and fought in many other battles including the battle of Utapau.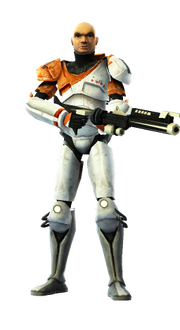 Ad blocker interference detected!
Wikia is a free-to-use site that makes money from advertising. We have a modified experience for viewers using ad blockers

Wikia is not accessible if you've made further modifications. Remove the custom ad blocker rule(s) and the page will load as expected.