CT-6869 is NOT an innuendo, if you thought it was you have a DIRTY MIND... Sergeant JaCorey Shepherd not to be confused with his pod brother, Commander JaCorrey Sheppard, served under Jedi General Ima-Gun Di in Keeli Company. JaCorey was born on Kamino, JUST LIKE EVERY CLONE, let's skip this bit and get to the parts you are waiting for.
The Battle of Geonosis
"BUT JACORREY LITERALLY EVERY CLONE PAGE STARTS WITH THE BATTLE OF GEONOSIS?" CALM DOWN!!!! IT'S IMPORTANT TO SHOW THE BOND BETWEEN JACOREY AND HIS COMRADES...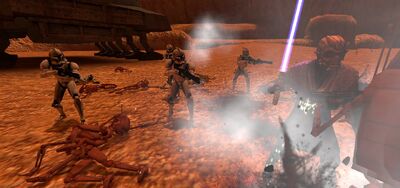 So JaCorey and Keeli Company were dispatched to Geonosis, like the rest of the clones around for that time, it was bloody, not like the simulators, people were getting limbs blown off and run over by massive droid tanks all over, pretty mentally scarring stuff to see. Anyways, Master Di and his squad were helping defend The Republic Self-Propelled Heavy Artillery also know as the SPHA. During the battle JaCorey impressed everyone, he was shot multiple times in the head and didn't even flinch.
"But how..." -A clone who JaCorey choked to death shortly after the question.
"Don't ask questions, only perform actions." ~JaCorey Shepherd. 
Ad blocker interference detected!
Wikia is a free-to-use site that makes money from advertising. We have a modified experience for viewers using ad blockers

Wikia is not accessible if you've made further modifications. Remove the custom ad blocker rule(s) and the page will load as expected.