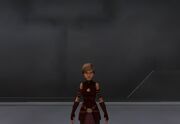 "There nothing without Hope......"-Rose and Annis' Life Motto
Growing Up
Rose was born on Iego but was given up for adoption a year after she was born. Rose was adopted by a Speeder Bike Racer Steve. Rose grew up in the Fast Lanes with Steve and his daughter Sarah.
Life in the Fast Lanes
Rose, Sarah and Steve never settled down, they traveled all over the Galaxies. All three of them practicly lived put of a suitcase. Rose loved watching Steve race and win. Rose didn't know she was adopted until Steve took the girls to an underground race on Coruscant. That's when she met Anni Candy
True Family
Anni and Rose bumped into each other during an Underground race. Anni was racing and Rose was returning from getting food to share with Steve after Steve won the first round of races. Anni was a Undercover Jedi busting races that aren't in the offical racing system. When the two girl's eyes contacted they gasped and started to ask the same questions at the same time. After the girls introdroced each other Rose invited Anni to her fathers Pit to watch the races. When Anni and Rose got to the Pit Steve was became mad at Rose for letting a Competiter into the Pit. Steve smacked Rose several times. Rose began to cry and accidently force choke everyone around her but Anni wasn't effeted because she couldn't be harmed by Rose. After Rose calmed sown Steve told Rose that she wasn't her real father and to get out. Rose and Anni left and never returned. Rose went with Anni to her Pit and never returned to Steve.
Life with Anni
After Rose found out she had a twin, both Sarah and Rose settled down near Anni on Coruscant. Anni would stop by many times a day. Rose even went to the Temple to visit Anni and the Temple Garden. The Temple Garden became her favorite area to reflect on life. Rose grew up a lot during her years on Coruscant but grew tired of staying in one place and began to race. Rose began to become a champion Rose would have won the greatest race if she wasn't crushed by a piller.
Death
Rose began to race like Steve did but had a home on Coruscant to be near Anni during the off season of races. Rose was racing on one of her favorite planets;Orto Plutonia. Rose was in first place when a loud boom was heard and the piller rose was passing collaped on top of her, she died in her older sisters arms. Rose was buried next to her mother in the family grave yard on Iego.
Ad blocker interference detected!
Wikia is a free-to-use site that makes money from advertising. We have a modified experience for viewers using ad blockers

Wikia is not accessible if you've made further modifications. Remove the custom ad blocker rule(s) and the page will load as expected.