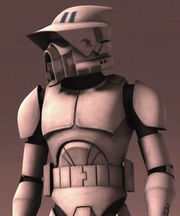 CT-99-GRY50N-99 "Rookie Grayson" was an ARF Trooper in the Grand Army of the Republic and a Scout Trooper in the Galactic Empire who was killed in the Battle of Endor.
==Clone Wars 
Rookie Grayson
Biographical information
Homeworld

Kamino

Born

30 BBY

Died

3 ABY

Physical description
Species

Human (Clone)

Gender

Male

Height

6ft

Mass

190 lbs

Hair color

Black

Eye color

Blue

Skin color

Peach

Cybernetics

Index Finger, Left Hand

Chronological and political information
Era(s)

-Clone Wars Era

-Rise of the Empire Era

-Reign of the Empire Era

Affiliation

-Grand Army of the Republic

-Galactic Empire

Rank

Rookie

Current Squad

Super Troopers

Squad Rank

Trooper
==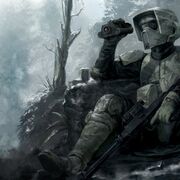 At the battle of Geonosis Grayson was on the Gunship that Master Yoda arrived on, rifle at the ready.  He blasted at droids, enjoying his first clash with droids.  After the Battle of Geonosis  he was assigned to Ryloth where he was Sniper in the 5th Sniper Corps, under Commander Trauma, luckily he was transferred a few days before Trauma was posted Devarom, he was transferred to Coruscant and to gaurd the Chancellor.  After earning prestige Grayson was promoted to rank Lieutenant and was transferred to Kashyyk with Master Unduli, Grayson followed Order 66 with 4 other Swamp Trooper's.
The Marek's...
After the battle of Kashyyk Grayson was briefly brought to Mygeeto then returned to Kashyyk with Lord Vader to exterminate a Jedi named Kento Marek.  Grayson was kept on Kashyyk for a long period of time without "excitement" until Galen Marek arrived at Kashyyk, Grayson was posted at the Skyhook and lost his left hand and right hands index finger to Marek, he then shoved his Sniper rifle at Marek's face, but was force blasted back, becoming unconcious.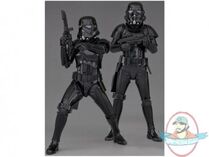 Shadow Trooper
After facing Starkiller and surviving, Lord Vader granted Grayson Shadow Trooper status.
- unfinished -                                                                                                                   
Ad blocker interference detected!
Wikia is a free-to-use site that makes money from advertising. We have a modified experience for viewers using ad blockers

Wikia is not accessible if you've made further modifications. Remove the custom ad blocker rule(s) and the page will load as expected.