Randolph Disraeli

Biographical information
Homeworld

Rhodan

Born

57 BBY

Physical description
Species

Human

Gender

Male

Height

1.86 Metres

Eye color

Blue

Skin color

White

Chronological and political information
Era(s)

Rise of the Empire

Galactic Civil War

Affiliation

Galactic Republic

Galactic Empire
Randolph Disraeli was a Republic Admiral who led the 17th Fleet. After the Rise of the Empire he became the Imperial Moff of the Rhodus Sector which included the strategically important world of Rhodan. His flagship was the Imperial I-class Star Destroyer Immalleable. He was one of the most successful Admirals of the Republic and Empire, and developed a prestigious reputation for his cunning and revolutionary tactics and his grand strategy planning.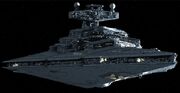 Ad blocker interference detected!
Wikia is a free-to-use site that makes money from advertising. We have a modified experience for viewers using ad blockers

Wikia is not accessible if you've made further modifications. Remove the custom ad blocker rule(s) and the page will load as expected.