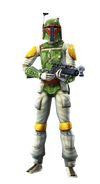 Boba Bactapack
is a Mercenary, Bounty Hunter, Mandalorian, and Ace Pilot. Boba wants people to call him Boba or Bob'ika. Boba was also a Unmodified Clone so he wasn't Loyal to The Republic which he was suppose to help. Boba is a popular Mandalorian Mercenary Bounty Hunter and would work for any one who has the right amount of credits. Also Boba was son of the Deadliest Bounty Hunter. Boba Bactapack is Elder General in The Mandalorian Guild also Rally Master in the squad. Boba also was in Major Battle he fought for The Guild and his "Father". Boba was Loyal to Aloquar Ordo who is Leader of the Guild and earned the rank Elder General by Hard work and showing respect to the Guild. Boba was born on the watery planet Kamino. He meet friend while he was kid and adopted by his dad. Boba's Father trained Boba to become a Mandalorian.
Ad blocker interference detected!
Wikia is a free-to-use site that makes money from advertising. We have a modified experience for viewers using ad blockers

Wikia is not accessible if you've made further modifications. Remove the custom ad blocker rule(s) and the page will load as expected.