The Clone Wars Adventures Character Wiki's 5th Ingame Event
Obstacle Competition!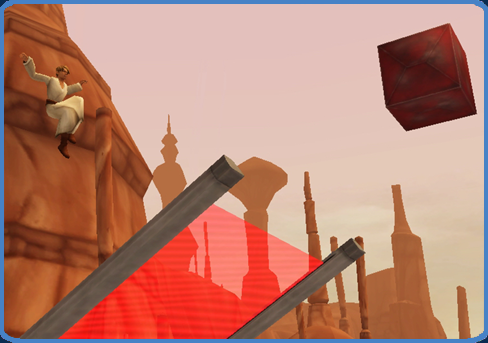 The infamous Navik the Red has been terrorizing Geonosis! He has been devoted to read every page on the Clone Wars Adventures Character Wiki to use this information to find every player's weakness to rule the servers of CWA! Now the Republic needs your help to stop this Red Rodian before it's too late! Republic Intelligence informs us that the only way to stop him is with a Hip-Mounted Cannon!
Join the Clone Wars Adventures Character Wiki as we have our fifth ingame event! Wuher MosEisley is hosting an Obstacle Competition at his Geonosis lot Obstacle Course specially built for the event! It will be held this Friday, check the details for the time and location!
The winner will win a Hip-Mounted Cannon code from Star Wars Celebration VI courtesy of SaiTorr Ecwropri and their character on the wordmark for 1 week starting Friday November 30th 2012 up to Friday December 7th 2012!
Obstacle Competition Details
How To play

Players will arrive in the lot to get ready and meet all of your fellow editors ingame a few minutes before the event starts.

When the event starts, a High Velocity Repulsor Launch Pad will be placed to access the start of the obstacle course. First one to finish and make it to the Winner Safe-zone pad will be declared winner!

When

Friday November 30th at 7:30 p.m. Eastern, EST North America (timezone converter).

Rules

No Mounts
No Pets
No Holoprojectors

Where

Wuher MosEisley's Geonosis lot, Red Rodian Arena (locked until the event)

Who can enter

Anyone can join, membership or not, even if they don't go on this site.

Prizes

A Hip-Mounted Cannon code from Star Wars Celebration VI courtesy of SaiTorr Ecwropri and their character will be on the wordmark from 30/11/12 to 7/12/12.*

Become a Republic wrecking ball with these new heavy hitting weapons!
Can I help?
You sure can! It would be appreciated to help by recording the event and putting it on Youtube. You can record even if you are entering the event.
-*In the case of a player winning the obstacle course and not having a page, they can give the wordmark to a friend with a page, or make a page for themselves after winning.
Ad blocker interference detected!
Wikia is a free-to-use site that makes money from advertising. We have a modified experience for viewers using ad blockers

Wikia is not accessible if you've made further modifications. Remove the custom ad blocker rule(s) and the page will load as expected.