Due to her insubordination and lack of skill in combat, Jedi apprentice Kira Aurdin was never selected to serve the Republic on the battlefield. Instead, she spent most of her time rebelling against her master, who tried his hardest to put her on a strict training regiment in an attempt to turn her into a true Jedi Knight.
Kira Aurdin

Biographical information
Homeworld

Unknown

Born

37 BBY

Physical description
Species

Pantoran

Gender

Female

Height

1.78 meters

Hair color

Pink

Eye color

Gold

Skin color

Blue

Chronological and political information
Era(s)

Rise of the Empire
Rebellion era

Affiliation

The Jedi Order
Rebel Alliance

Known masters

Amren Kurvo

Kira never truly felt like she belonged in the Jedi Order, until the Jedi Order ceased to exist. After the Great Jedi Purge and rise of the Galactic Empire, Kira embarked on a life-changing quest that forever changed her mindset and attitude towards being a Jedi.
Behind the Scenes/Words from the Author
Kira Aurdin's name is pulled straight from Star Wars' history. In early The Force Awakens concept art, the character who would eventually become Rey was referred to as Kira. Dale Arden from the science fiction serial Flash Gordon has been credited with serving as inspiration for both Leia Organa and Padme Amidala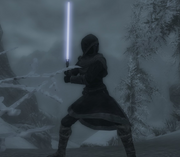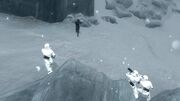 Ad blocker interference detected!
Wikia is a free-to-use site that makes money from advertising. We have a modified experience for viewers using ad blockers

Wikia is not accessible if you've made further modifications. Remove the custom ad blocker rule(s) and the page will load as expected.