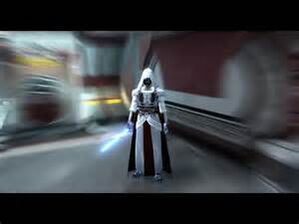 Jek Grell is the decendant of the famous senator from the old republic Tobas Grell, and Jedi Nadia Grell. Jek Grell was known for discovering the planet Earth'ika and fighting in a widespread war to claim it, known as the Earth'ikian Force War. He was a Explorer from the planet Sarkhai.
He is also known for re-discovering the Force on the planet Earth'ika.
Early Life
This section will be updated soon!
Jek Grell
Biographical information
Homeworld

Sarkhai

Born

3,994 ABY

Physical description
Species

Sarkhai

Gender

Male

Height

1.88 meters

Hair color

White

Eye color

Blue

Skin color

Fair

Cybernetics

Right leg

Handedness

ambidextrous

Chronological and political information
Era(s)

Corrupt Era

Affiliation

Sarkhai Government

Sarkhai Exploration Team

Sarkhai Council

Earth'ikian Government

Earth'ikian Government

Known masters

Gorge Grell

King Malak

Known apprentices

Galen Skymauler

Alexa Grell (Formerly Skymauler

Others

Family

Gorge Grell - Father

Clarisse Grell - Mother

Gavin Grell - Brother

Tak Grell - Sister

John Grell - Brother

Alexa Grell - Wife

Talia Grell - Daughter

Cade Grell - Son
Ad blocker interference detected!
Wikia is a free-to-use site that makes money from advertising. We have a modified experience for viewers using ad blockers

Wikia is not accessible if you've made further modifications. Remove the custom ad blocker rule(s) and the page will load as expected.