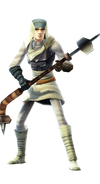 Wuher MosEisley
was not always known as Wuher MosEisley; his birthname, Wuher Chalmun. His father, an adventurous, well-known architect from Coruscant, would travel with Wuher by his side seeking unique, inspirational places through-out the galaxy. When Wuher was a youngman, he and his father had voyaged to Tatooine to see first hand the famous dwellings of the town of Mos Eisley.
Ad blocker interference detected!
Wikia is a free-to-use site that makes money from advertising. We have a modified experience for viewers using ad blockers

Wikia is not accessible if you've made further modifications. Remove the custom ad blocker rule(s) and the page will load as expected.