Hi there!
I just wanted to introduce myself to you guys, since I am your new Community Manager. My name is Emissary Amnerys (pronounced am-NAIR-iss). I've been working at SOE for over five years and I am so excited to get more time with the Star Wars®: Clone Wars Adventures™ players!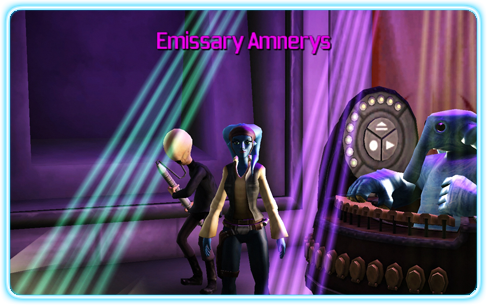 Star Wars has been a big part of my life and I'm proud to be a fan, so working on Clone Wars Adventures is like a dream come true. I still have my Star Wars figures and ships from my childhood, and I just brought my Millennium Falcon and an X-Wing to work to decorate my desk!
Emissary Zatozia is still around, so don't worry! She's going to be working on another game now, but I'm sure we can get her to come defend the Rebel Alliance hang out with us on occasion.
I haven't had much time to hang out in Clone Wars Adventures lately, so I know there are a lot of new things to learn. I hope you will help me get settled in by sharing your tips and tricks for the game!
See you in the Jedi Temple!
~ Emissary Amnerys
Source
Ad blocker interference detected!
Wikia is a free-to-use site that makes money from advertising. We have a modified experience for viewers using ad blockers

Wikia is not accessible if you've made further modifications. Remove the custom ad blocker rule(s) and the page will load as expected.