Ella Plasmaspanner

Biographical information
Homeworld

Ryloth

Born

40 BBY

Physical description
Species

Twi'lek

Gender

Female

Height

1.80 Meters

Eye color

Blue

Skin color

White

Chronological and political information
Era(s)

Rise of the Empire Era

Affiliation

Galactic Republic
Jedi Order
Twi'lek Fighting Force
"That was fun!"
- Ella
Ella Plasmaspanner, her friends call her Ella, she is a female Twi'lek and wife to Captain Hotshot.
History
Ella was very active during the Clone Wars, and defended her home planet Ryloth with pure detirmination. She and Hotshot often worked together on missions. She was a very unique female, being able to use two lightsabers in combat and could use a Nightsister crossbow also. She later married Hotshot before Order 66 and had four children.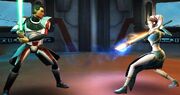 Facts
Ella often duels Hotshot in-game, and likes to play with him in bunker Usk on Umbara. In-game she is Dogma Primerazor's best friend. She is also part of the Twi'lek fighting Force.
Appearances
Ad blocker interference detected!
Wikia is a free-to-use site that makes money from advertising. We have a modified experience for viewers using ad blockers

Wikia is not accessible if you've made further modifications. Remove the custom ad blocker rule(s) and the page will load as expected.