Dawson Battlespear
Biographical information
Homeworld

Coruscant

Physical description
Species

Human

Gender

Male

Height

6ft

Mass

149lb

Hair color

Black

Eye color

Blue

Skin color

Tan

Cybernetics

prosthetic right arm and right leg

Chronological and political information
Era(s)

The Old Republic era Clone Wars era Rise of the Empire era The New Jedi Order era

Affiliation

Galactic Republic

Jedi Order

Known masters

none

Known apprentices

none
Dawson Battlespear was the name of a leader in the Grand Army Heroes and the Grand Army Hero Survivors. He was a Jedi Master and a member of the Jedi Council.
Biography
Quotes
"If a friend needs me to be there il be there and help. Or not" Dawson Battlespear
Life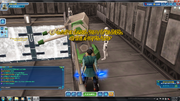 Dawson had a fine life. He was a Jedi at a young age and grew up to be a great Jedi Master. Soon he even made the battalion Grand Army Heroes. It was one of the strongest fighting forces in the Republic.
Ad blocker interference detected!
Wikia is a free-to-use site that makes money from advertising. We have a modified experience for viewers using ad blockers

Wikia is not accessible if you've made further modifications. Remove the custom ad blocker rule(s) and the page will load as expected.