Dawson Battlespear
Biographical information
Homeworld

Unknown

Born

Unknown

Physical description
Species

Human

Gender

Male

Height

5'ft 11in

Mass

170lb

Hair color

Black

Eye color

Blue

Skin color

Tan

Cybernetics

Prosthetic right arm and right leg.

Chronological and political information
Era(s)

The Old Republic era Clone Wars era Rise of the Empire era The New Jedi Order era

Affiliation

Galactic Republic

Jedi Order

Known masters

none

Known apprentices

none
Dawson Battlespear was a Jedi Master that lived around the time of the Clone Wars. Known for his two-sided personality, Dawson could go from barking orders at even his equals to using any second he could spare to relax.
As General Battlespear, he formed a coalition spanning the Republic's Grand Army known simply as the Grand Army Heroes. When his famed organization was infiltrated by their enemies and subsequently destroyed. It's former leader adopted more unconventional tactics and created the Grand Army Hero Survivors. A spiritual successor to his coalition although employing a much more covert doctrine.
Biography
Quotes
"If a friend needs me to be there, I'll be there. Or not. Depends on my mood."
"Life is not peace with times of conflict, but conflict with times of peace. If you are not fighting for your life, you should be preparing for that fight for it is sure to come."
Life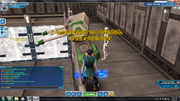 Not much is known about Dawson's early life. Seeming to keep any and all secrets close to himself. Not at all opening to any friends he would meet. His life would take a drastic turn as the Clone Wars began.
As a Jedi Master in the Clone Wars, he took up the title of General in the Grand Army of the Republic. The new general commanded the 54th Attack Battalion (Distinguished by the black detail on their armor) and personally led the 1st Airborne Company in invasions of Separatist worlds.
Following Order 66, Dawson Battlespear has been reported as K.I.A. Oddly enough, no location of death was ever reported nor any clone claiming to have killed the Jedi Master.
SYSTEM CORRUPTED. INITIATE—
Update:
Following the Clone Wars and the horror it had brought, Dawson had surrendered his titles as Jedi, General, and warrior. Favoring a new, quiet, and peaceful life far from war or death. He now lives a simple and happy life. Savoring the small things such as the quiet moments when his kids were asleep and the light touches of his spouse.