Greetings human, I am Counselor Ozan, I am but a holograph..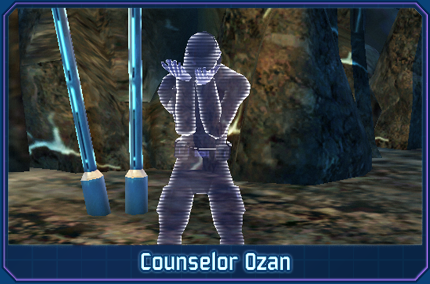 When I am not being all holography, I work on my defective droid™ R2-U9. For some reason the darn hunk of metal keeps stealing all my peanut butter and jelly sandwiches! I've some how got to figure this out! What do you guys think I should do?! I'll tell you what, we can make a deal. I'll help you guys out, but in return I demand peanut butter and jelly sandwiches! Just kidding! :)
If you guys need anything at all, please let me know and I would be more than happy to help out! (even if I am starving... where does that droid put those things anyway...)
External Links
Ad blocker interference detected!
Wikia is a free-to-use site that makes money from advertising. We have a modified experience for viewers using ad blockers

Wikia is not accessible if you've made further modifications. Remove the custom ad blocker rule(s) and the page will load as expected.