Commander Felth
Biographical information
Homeworld

Kamino

Born

32 B.B.Y

Died

19 B.B.Y

Physical description
Species

Mandalorin (clone)

Gender

Male

Height

1.83

Hair color

Black

Eye color

brown

Skin color

Cockcasion

Cybernetics

N/A

Chronological and political information
Affiliation

republic

Known masters

unknown

Known apprentices

unknown
Atin was a natural fighter and would do anything in his power to beat the separatists. he was orginally was called alpha 03 but then he got the name Atin . He was trained by everyone
quotes
Why take prisoners? Why not just shoot them?
They grow up loyal to the Republic, or they don't grow up at all.
Three life signs. One in the rubble. Another in the rafters'.' ''Everyone else, with me. Move out!"
Men like me don't start the wars. We just die in them. We've always died in them, and we always will. We don't expect any praise for it, no parades. No one knows our names.
I don't need pity. None of us do. Not us Nulls, anyway. We control our own lives.
Yes, I know how the Kaminoans did it. They used our genes 'against us, the ones that make us bond with our brothers, make us loyal, make us respect and obey our fathers - that's what they manipulated to make us more likely to obey orders. They had to remove what made Jango a selfish loner, because that makes a bad infantry soldier, and you can tell from the Alpha ARCs that the Kaminoans weren't wrong. But there's one thing I don't know yet - and that's how they controlled the aging process. That's the key. They robbed us of a full life span. But we will not be defeated by time, ner vod.
found on the wookieepedia
early life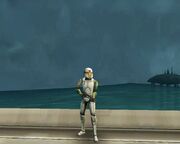 During His chilidhood? he had it tough. His training began when he was very very young because of his accelerated growth.? ? He was amazing at a a lot of things. He got? His training from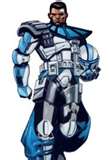 battle of kamino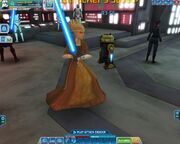 When he was looking at a holo then a commando droid captain came about to blast him he kicked the blaster out of its hand then it got its vibro blade out it slashed at him, he dodged and broke the droids head.
armed him self with his dual blasters and ran out blasting themwith everything he had then ten droidiekas (if you know how to spell that please correct it.) rolled in. He got cover then a jedi knight ran in and forced them back.
Felth
asked the jedi his name (thinking)
Ad blocker interference detected!
Wikia is a free-to-use site that makes money from advertising. We have a modified experience for viewers using ad blockers

Wikia is not accessible if you've made further modifications. Remove the custom ad blocker rule(s) and the page will load as expected.