Home
Talk

140
1,286pages on
this wiki

1,286 articles since September 21 2011.

Welcome to cwacharacter.wikia.com!
Welcome to the Clone Wars Adventures Character Wiki!
The Clone Wars Adventures Character Wiki is an open wiki mainly aimed towards the CWA Wikian community to share, read, socialise, and learn more about user created fanon stories focusing on characters from SOE's MMO Clone Wars Adventures.
With the many categories to choose from, users can easily and quickly pinpoint many characters that interests their particular likes. There are also many squads from CWA, currently there are over 100 squads on the wiki.
This wiki is devoted to only Clone Wars Adventures Characters and Squads.

December's Featured Character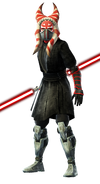 Darth Jievous
was a Sith Lord for many centuries. If he ever went into battle, he could use many types of weapons like the force, his lightsaber, or hypnotisim. If he was put into exile, he would get out real easy unless the Jedi buried him up real good. His phase is "If you see a fighter who knows his place, you never have seen one like this.". He would kill every single Jedi until there was no more. Once his missions are done, he returns to his sith temple that he built with help from his Sith mates.
You can view the stats on the poll here,
Stats

January's Featured Character voting!

Voting ends December 31st 2013.
Note: We are unable to add any more pages to the poll until it resets on January 1st
click Here to vote!

CWA Character Wiki in game event!
The CWAC wiki held their second Halloween event on 10/27/13, video recorded by Zeeg Rums.
Have an idea for this wiki? Don't be shy, any thoughts/suggestions are welcome at the official CWA Character wiki feedback blog!