Home
Talk

133
1,065pages on
this wiki
1,065 articles since September 21 2011.

Welcome to cwacharacter.wikia.com!
Welcome to the Clone Wars Adventures Character Wiki!
The CWA Character Wiki is a place for the CWA Wikian community to share, read, socialise, and learn more about characters from SOE's MMO Clone Wars Adventures. With the many categories to choose from, you can find characters that are interesting to you specifically. You can also learn more about the squads in CWA, we have over 100 squads added on the wiki.
This wiki is devoted to only Clone Wars Adventures Characters and Squads.
Will grow as wiki expands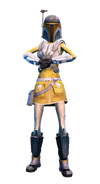 Mirta Brokar
was born on the planet Concord Dawn, as the daughter of Dinuir Brokar, one of the last survivors of the Battle of Galidraan, and the leader of clan Brokar. Mirta was raised by her father to become a Mandalorian. She proved herself at age 13 by fighting a Gundark and taking its ears as a trophy. When Mirta was 15 she was visited by another Mandalorian outside the clan. He told her of the group Death Watch and their plans to make an empire and asked her to join. Her father shot a warning shot for him to get away from his daughter. Later Dinuir told Mirta of his brother, Solus Brokar who left the Mandalorians to join the Death Watch Terrorist Group and told her if she ever saw him again to kill him.
You can view the stats on the poll here,
Stats
While this wiki is a place for players to make their own unique character stories, and therefore has very few format guidelines, there are some rules which must be followed. Please do not add any foul/inappropriate language to pages or chat, if you do there will be punishment;
Punishment varies on the act and/or the past history of the user from previous blocks.
Wiki Usernames that contain foul/inappropriate language or users with provocative/inappropriate avatars will not be allowed to edit.
Please do NOT use this wiki to promote religion, politics or gangs.

Clone Wars Adventures Character Wiki's Featured character

Vote!, for Clone Wars Adventures Character Wiki's monthly Featured Character. The featured character will have their page featured on the homepage throughout all of the Month! To get your character's name on a poll, all you have to do is make him/her a page. *Once a poll is up, we can not add more names, if you have created a page and your character name is not on the poll, it is most likely because; A) you have already won in the past. or B) you created your page after the poll was made. Unfortunately we are unable to add anymore character names until the poll is reset at the end of the month.
Requirements to win:
Article must have at least 3 paragraphs.
Article must be family friendly
Article must not contain offensive remarks
Article must be about a character in the game of Clone Wars Adventures
Author/character/person must not have won Featured Character in the past
Voting ends May 31st 2013


June's Featured Character voting!

Voting ends May 31st 2013.
Note: We are unable to add any more pages to the poll until it resets on June 1st
click Here to vote!
Featured Videos
New to Wikia? Never fear, Alaira Dalia has made a very nice How-To video to help new users learn how this wiki works.
Check out other amazing videos by

New Clone Wars Adventures Commercial
Clone Wars Adventures have put out a new promotional commercial on Youtube.
Check out the Official Cwa Youtube channel,

CWA Character Wiki in game event!
The CWAC wiki held their ninth in game event last May, here is a video recorded by Zeeg Rums.
Have an idea for this wiki? Don't be shy, any thoughts/suggestions are welcome at the official CWA Character wiki feedback blog!
Having a Companion at your side gives you a special boost in combat! Boosts vary depending on the Companion; it could increase your maximum amount of Force or Health, decrease the damage you take from enemies or even occasionally increase your own damage! -
Gram Alnin