Welcome To Delta Company.

Delta company

Founders

Admiral Atom, Xeres Gorogdrive, Axe Evans

Founding/Disbandment

Founding: 22 BBY

Disbanded: 19 BBY (After Order 66)

Bases

Meeting base: Felucia

Prison base: Asteroid base 5423

Main base: Orto Plutonia
Delta Company is a squad named after the famed, Republic Commando squad,
"Delta Squad"
.

Delta Company is a Company within no specific battalion, but is often working with the 501st Legion or 212th Attack Battalion.
Members
Leaders
Admiral Atom aka "Atom" first in command of the squad.
Xeres Gorogdrive aka "Drive" heavy weapons and second in command.
Axe Evans aka "Axe" recon and third in command.
Officers (Generals)
cameron mccloud
mace shaakherder
Commander(s)
Troopers
Aberforth Lestranger
Aedo Norgkeeper
Alek Blackbreaker
Alek Raspwell
Anthon Lonespark
Arcee Falconspire
Borsk Solarfomer
Borvo Snowbreaker
Bray Battlescanner
Bray Huttspore
Brian Aryxboiler
Champ Shadowtalon
Charles Blakester
Chernan Moonslider
Chodo Fearmight
Dash Exodevourer
Dash Exospore
EATHAN DUELER
Galen Crastbreak
Gavyn Skyspark
Goji Drelchamber
Hale Rasproamer
Jacen Railslinger
Jaing Bothanduster
Jeffren Antiswoop
Jek Wrixspiral
Jessica Layman
Joshua Kragrocket
Lando Alphasear
Lou Swagten
Lucien Shadefodder
Mal Cloudfighter
Moxen Griffen
Murdock Clawlight
Noa Infrapincer
Noah Midslider
Rake Sleemobreaker
Ranar Duskbore
Rann Gurfspore
Rohlan Mistflier
Rush Rangehunter
Scott WILD
Spark Shadowbomber
Springfield Ace
Steven Macinthos
Swilla Blazeslide
TheoD Jek
Tristan Nerfcrystal
Vanden Flaresmuggler
Varon Alphabot
Varon Servoboost
Vidar Rancorthrash
Volo Fearbolt
Wex Suntanker
Will Saabacwaker
Yusanis Battlemelter
Zan Skysting
Zane StealtHunter
Zurros Transcharge
alex carpender
captain jaxter
captain fireburns
chase rocket
comander villa
devoiddrake destroyer
enderdragon monster
hacer mecher
hando Moonroller
noah0830 hutttracker
olili Steamark
opol jet
portal drop
rainwalker Railwaker
scorp
sinsret abster
starko slinger
supersky shadeside
taker121 taker122
teddy werdenberg
uli baba
Squad Rules
"What good is a squad without rules? It's nothing but chaos."

– Admiral Atom
Follow orders.
Be mature, don't run around starting wars with other squads.
Treat other players and your fellow squad mates with respect.
Don't remove other members from the squad to invite someone else.
Next Leader in Delta Company (Closed)
The following players can be voted for to fill in the spot of 4th in command of Delta Company.
Next Leader in Delta Company.

Ben1 Jackson 8

Kane Gortspiral 2

Wes Shiptalon (If he comes back.) 4

Memorable Members
"Once a comrade always a comrade."

– Xeres Gorogdrive
Delta Films
Delta Films is a CWA film group within Delta Company, all of they're CWA films will be posted on Admiral Atom's YouTube Channel. Even with a shut down of CWA, Delta Films will continue.
Past Projects
"Skirmish on Ryloth"
Released: September 8th, 2013 (9/8/13)
Cast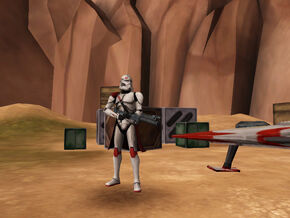 "Ghost Ship"
Released: December 15, 2013 (12/15/13)
Cast
Ships
Through Atom's time on CWA, he has designed many aircraft for the squads he's been on, and you may notice every two of the ships look similar.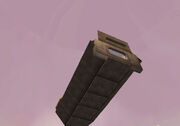 "I know its not much but it's a template for future ships, it'll have to do for now."

– Admiral Atom
The Mark I ship was a prototype craft designed by Admiral Atom, and used by the "shadow tech marines"
Type: Transport
Attack: Light laser canons, cluster bombs
Defense: A Class deflector shield
Speed: Very slow
The second craft designed by Admiral Atom, this one featured higher attack all around an upgrade from the prototype.
Type: Transport, Light Combat
Attack: Front facing canon, rear facing Particle Beam Cannon, Ion Repeaters
Defense: B Class Shields
Speed: Moderate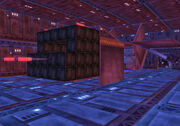 "This is the beginning of a whole new wave of combat."

– Admiral Atom
The third craft designed by Admiral Atom, this craft was heavily used by the "sadow tech marines" until it was decommissioned.
Type: Assault, transport
Attack: Energized disrupters, heat seeking missiles, Ion Canon
Defense: C class shields
Speed: Fast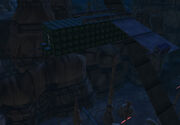 The Mark IV was the first ship Atom had modeled after a Republic Gunship, it was used many times by the Sadow Tech Marines, and Delta Company, but later replaced with other ships.
Type: Assault, Transport
Attack: Laser Cannons, Lock-On Missiles, Proton Torpedos
Defense: A Class Shields
Speed: Fast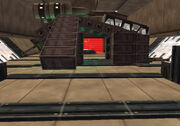 The fifth, and second to last craft Atom has designed, this craft was modeled more after a Republic Gunship then his previous ships.
Type: Heavy Assault, transport
Attack: Standard issue canons, Lock-on missiles, Proton Bombs
Defense: B Class shields
Speed: Moderate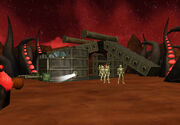 The final ship designed by Admiral Atom, and by far his greatest. This ship was directly taken from a Republic Gunship with floodlights, but given many major upgrades, to increase speed, attack, and defense.
Type: Heavy Assault, Transport
Attack: Front Facing Laser Cannons, Rear Facing Laser Cannons, Proton Torpedos, Lock-On Missiles, Proton Bombs
Defense: A Class Shields
Speed: Very Fast
Photo Gallery
Pages linked to this Category
Pages in category "Delta Company"
Ad blocker interference detected!
Wikia is a free-to-use site that makes money from advertising. We have a modified experience for viewers using ad blockers

Wikia is not accessible if you've made further modifications. Remove the custom ad blocker rule(s) and the page will load as expected.