"Brats! They jacked my backpack!"

– Athan Blazebreaker
Athan Blazebreaker
Biographical information
Homeworld

Shadow Moon

Born

20BBY

Died

Hasn't Occured

Physical description
Species

Shad'ika

Gender

Male

Hair color

White

Eye color

Blue

Skin color

Tan

Chronological and political information
Era(s)

Edo Dinosaur True Mandalorians

Known masters

Rage Ordo and Mandalore TheMarauder

Known apprentices

Everyone from CWA

Current Squad

The Shadow Mandalorians

Squad Rank

General

Former Squad(s)

The Dark Duelers
Athan, also known as Dral, was born on Dosha. He was raised on the Mandalore, where he s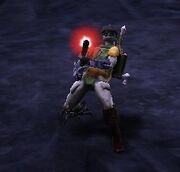 oon became a Mandalorian. He was tested by Beviin Kabur on the jungle planet of Felucia. He was smart and answered most of them correct. He thought he was Mandalorian material, but a few days into the Guild, Athan quarreled with his fellow squad mate, Fang Bloodnight. Unfortunatley for Athan, Beviin was there. Athan was then removed from the Guild. 
He was restricted to come back. But now, Athan is currently a bounty hunter. He roams the lower city of Coruscant. Athan also knew the Mandalorian, Jazz Bactapack. Dral personally saw her die before his eyes. Someone slit her throat.
Tears dropped down from Athan.  He was crying desperately, Dral vowed to get revenge . . . one day . . .
Ad blocker interference detected!
Wikia is a free-to-use site that makes money from advertising. We have a modified experience for viewers using ad blockers

Wikia is not accessible if you've made further modifications. Remove the custom ad blocker rule(s) and the page will load as expected.