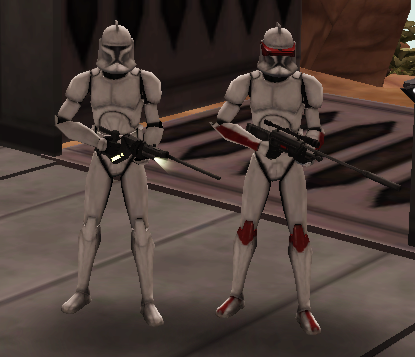 Artus Rainboots
a great trooper loyal to the grand army of the republic. Is in a great squad called "The Torrent Company". He follows every order he is given and mostly follows the clone Captain Rex Shadowstun the leader of "The Torrent Company". The Torrent Company is the strongest and most skilled squad on CWA. This was his quote he wanted me to write " I think Captain Rex Shadowstun is the best clone captain in the Grand Army of the Republic" This is a photo of Artus Rainboots with Danz Portspiral aka Havok troopers of the Torrent Company. I inspire all players to look up to the Torrent Company. Because the Torrent Company is the better than all of the squads on cwa combined. Captain Burner aka Filgrin Dronefarmer has saved Artus Rainboots hind alot and so has Captain Rex aka Rex Shadowstun. The Torrent Company is my life. Artus Rainboots is best friends with Danz Portspiral the Shiny is whats i call him. This squad is my family cause they are my brothers we are loyal to the GRAND ARMY OF THE REPUBLIC.
Ad blocker interference detected!
Wikia is a free-to-use site that makes money from advertising. We have a modified experience for viewers using ad blockers

Wikia is not accessible if you've made further modifications. Remove the custom ad blocker rule(s) and the page will load as expected.