Anya

Biographical information
Homeworld

Shili

Born

73 BBY Shili

Died

20 BBY Umbara

Physical description
Species

Togruta

Gender

Female

Height

1.95 Meters

Hair color

None (Lekku and Montrals)

Skin color

Amber with white markings

Chronological and political information
Era(s)

Rise of the Empire

Affiliation

Jedi Order Galactic Republic

Known masters

Po Bandis

Known apprentices
"Arrogance diminishes wisdom, remember this Callista, and keep a clear mind."
-Anya
Early Life
Anya 
Pre-Clone Wars
Taking on a Padawan Learner
Battle of Geonosis
Retaliation on Umbara
After the Republic invasion and occupation of Umbara, Umbarans across the planet felt wronged by the Republic for attacking their homeworld in name of Umbara's choice to ally with the Separatist cause.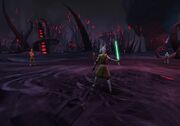 Ad blocker interference detected!
Wikia is a free-to-use site that makes money from advertising. We have a modified experience for viewers using ad blockers

Wikia is not accessible if you've made further modifications. Remove the custom ad blocker rule(s) and the page will load as expected.